A young enthusiastic scholar, visionary leader, dynamic entrepreneur and a social reformist with desire to develop the nation through various initiatives and endeavors in Renewable Energy, Power, Ayurveda, Technology, Education, Skill Development & Social Work.
Ideas, innovation, hard work, passion, transparency and target oriented approach comes naturally to him. He studied Bachelors in Social Law from ILS Law School Pune and further LLB from Pune University. A self-made entrepreneur he went on to become youngest Co-Chairman of ASSOCHAM (Associated Chambers of Commerce & Industry of India) at the age of 28. He has been instrumental in introduction & setup of various projects/products in India and abroad in waste heat recovery technologies, energy efficiency enhancement, Bio- fuel and first ever run on the river hydro power technology along with various environmental and green projects bringing benefits to environment and creating employment at large.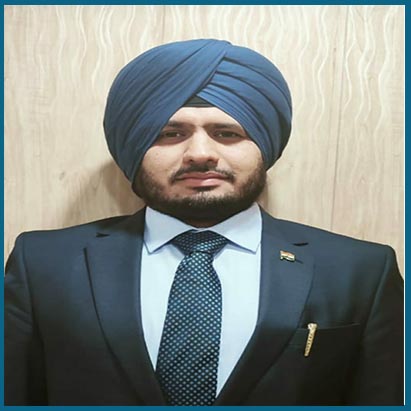 Recently, his passion and well-orchestrated efforts has given him the esteemed position of Chairman, National Council on Skill Development and Entrepreneurship in ASSOCHAM as a result of his immense and selfless hardwork for society. His works reflects in his strategies to solve social issues, and play crucial role as part of the solution. He is also an Advisor to international data management company Aiisma Inc. Due to his vast experience and expertise in renewable gases he has been selected as General Secretary of Renewable Gas Association of India from the industry side.
Education and training come as passion to this man having set up several organizations across the nation & skilled more than 14000+ students and 600+ professionals across India & abroad. Former Hon'ble Education Minister (GOI) Dr. M.M. Pallam Raju released his book
"Comprehensive Career Guide", which is reflection of his in-depth research on over 140+ career options to help the student fraternity.
He has raised businesses through Innovation and PR and has a history of turning around projects to make them profitable. He has advised number of organizations to successfully launch and run operations in India. He is also the Secretary of Bal Bharti Academy (NGO) where
under his able leadership they have provided skill development to more than 15000 people in last 5 years; Founder – The Concern, Advisor to Economic Times (Event) and Advisor to Paralympic Golf Association of Delhi and Citizen Experience Foundation of India along with
being on board of more than 15 organizations.
He is one of the Core Group Members of Shaheed Bhagat Singh Brigade & is a proud follower and disciple of Shaheed Bhagat Singh Ji.
A visionary who holds the vision that makes a world with knowledge at its grass root. As he states in his own words, "the vision is for the world where humanity belongs to genius". With the mission to build a society for mankind where each and every human being can write his own success story, he is set forth to meet all the challenges & indefatigable pave the way for new developments for the youth of the nation.
He is truly a discerning professional in the field of management and a widely respected transformational leader. He has been a voracious speaker disseminating his ideas and knowledge in various conferences around the globe. He is continuing his work towards
betterment of society in all his approach and ethically to fulfill his vision of skilled and adroit India.
From 2013-15, he has worked extensively in Waste Heat Recovery sector which was involved in increasing efficiency of existing plants and to obtain value out of waste exhaust and bi-products.


In 2015, he successfully commissioned Biomass to Pellet Demo Plant in Panipat. He also launched the first Hydro-Kinetic Turbine in the country where power is drawn from running water at Chilla canal, Uttarakhand.


From 2016-17, he has worked on carbonization of Biomass and converting it to Bio-Coal and also worked closely with NTPC to implement the projects.


He has been extensively working in the field of waste to energy since last 5 years and carries a rich knowledge and experience in the sector with in depth knowledge on customization and adaptability as per local requirements to bring commercial as well as technological strengths to increase the efficiency of the project to desired levels.


He is also part of the government committee of crop burning solutions of Ministry of Agriculture of Government of India.


He has been invited by many bodies/organizations across the country to throw light and insights on waste management process which have been duly appreciated by industry leaders and experts.
To know more about him please visit www.manindersingh.co.in