Concern 2013 was held on April 5-7 at Epicentre, Sector-44, Gurgaon, Delhi NCR.
Concern 2013 was a platform to meet key decision makers across the school & higher education system in India and Abroad, education regulatory bodies, goverment agencies, system integrators, service providers and vendors. This platform will provide a great networking opportunities with industry leaders and decision makers presenting an opportunity to meet and promote business.
Key Features of the Event
To equip the Indian Institutions with better knowhow of the ongoing trends and the impact of ICT.
To provide a platform for prestigious Indian universities and colleges to present their high quality education programs to international participants and consultants.
To give students and education consultants the opportunity to meet face to face with the representatives of these reputed Indian & Foreign Educational Institution for match making.
To event provides networking opportunities for both Indian % Foreign Universities with foreign consultants and Indian Institutes/consultants.
To Foster collaborations of foreign Universities with Indian Colleges/Universities to promote quality educatioin to meet the need of Industry.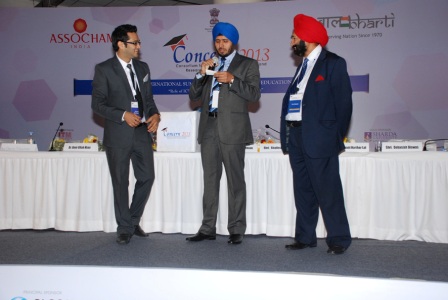 To create a world class learning experience, India needs innovative and creative models with an extensive use of Information and Communication Technology (ICT) i its education system to attract the students from across the globe.
Realizing this ASSOCHAM and BAL BHARTI ACADEMY have come up with one of the most unique conferences in the country where the complete itinerary of the meetings is prefixed and confirmed allow the participants to get the maximum mileage out of the new relationships being developed.